Why should I choose the open CC-BY license for my article?
Why should I choose the open CC-BY license for my article?
The Max Planck Society, the Alliance of German Science Organizations and cOAlition S encourage authors to choose, wherever possible, the Creative Commons Attribution License (CC-BY) for their published works.
While authors have traditionally transferred all rights over their works to publishers, under the CC-BY license authors keep the right to re-use their own work and freely and legally share their published articles. Hence the CC-BY license fruits the greatest possible impact and use and re-use of your research, enabling scholars and scientists everywhere to learn from and build on the results of your research and increasing the potential of digital technologies in research, such as text and data mining, while ensuring that you as the author are always given credit as the creator of the work. This is why you should always use CC-BY without additional restrictive attributions. Particularly the NC-attribution (=non-commercial) should be avoided as it is often unclear what constitutes commercial use and the NC-attribution is incompatible with re-use even on open content platforms like Wikipedia.
The Max Planck Society is working on establishing the CC-BY license as the gold standard in scholarly publishing. While the majority of journals included in the Max Planck Society's Open Access agreements prompt authors to choose the CC-BY license by default, there are exceptions. In these cases, authors are encouraged to select the least restrictive Creative Commons license available.
Taking the opportunity to publish your article open access under the CC-BY license, you will contribute to a growing body of openly available research findings, enabling more profound, expansive and impactful studies, accelerating the process of science itself, whereby new discoveries are built upon previously established results.
Further information:
https://www.fosteropenscience.eu/sites/default/files/pdf/3773.pdf
Warum sollte ich die offene CC-BY Lizenz für meinen Artikel wählen?
Die Max-Planck-Gesellschaft, die Allianz der deutschen Wissenschaftsorganisationen sowie auch die cOAlition S empfehlen, wann immer möglich, die Vergabe der Creative-Commons-Lizenz CC-BY für wissenschaftliche Publikationen.
Während Autor*innen bislang ihre Nutzungsrechte meist exklusiv an den Verlag übertragen haben, behalten sie durch die CC-BY-Lizenz die Rechte an ihrem Werk, und sie bestimmen selbst über die weiteren Nutzungsmöglichkeiten. Die CC-BY-Lizenz ermöglicht Ihnen als AutorIn daher die größtmögliche Verbreitung, Nutzung und Nachnutzung Ihrer Forschung und ermöglicht es Wissenschaftlern überall von den Ergebnissen Ihrer Arbeit zu lernen und darauf aufzubauen. Ebenso erhöht die CC-BY-Lizenz das Potential digitaler Technologien in der Forschung, z. B. automatische Textanalyse-Verfahren oder KI-Anwendungen, während sie ebenfalls sicherstellt, dass Sie immer als Urheber des Originals genannt werden müssen. Daher sollten Sie immer CC-BY ohne zusätzliche einschränkende Attribution wählen. Besonders die NC-Attribution (nicht-kommerziell) sollte vermieden werden da oft unklar ist, welche Nutzungen als kommerziell gelten könnten und die NC-Einschränkung bereits die Nachnutzung auf Open Content-Seiten wie Wikipedia verhindert.
Die Max-Planck-Gesellschaft strebt an, CC-BY als Standardlizenz für das Open-Access-Publizieren zu etablieren. Die meisten Zeitschriften, die über die Open Access-Verträge der Max-Planck-Gesellschaft abgedeckt sind, bieten die CC-BY-Lizenz als Standard an, aber es gibt auch Ausnahmen. In diesen Fällen sollten Sie bitte immer die am wenigsten einschränkende CC-Lizenz wählen.
Wenn Sie die Gelegenheit nutzen, Ihren Artikel Open Access unter der CC-BY-Lizenz zu veröffentlichen, tragen Sie zu einem wachsenden Korpus an offen zugänglichen Forschungsergebnissen bei, was wiederum eine tiefgreifendere, umfangreichere und wirkungsvollere Nutzung erlaubt, wodurch der Prozess der Wissenschaft selbst beschleunigt wird, indem neue Entdeckungen auf bereits etablierten Erkenntnissen aufbauen.
Weiterführende Informationen:
https://www.fosteropenscience.eu/sites/default/files/pdf/3773.pdf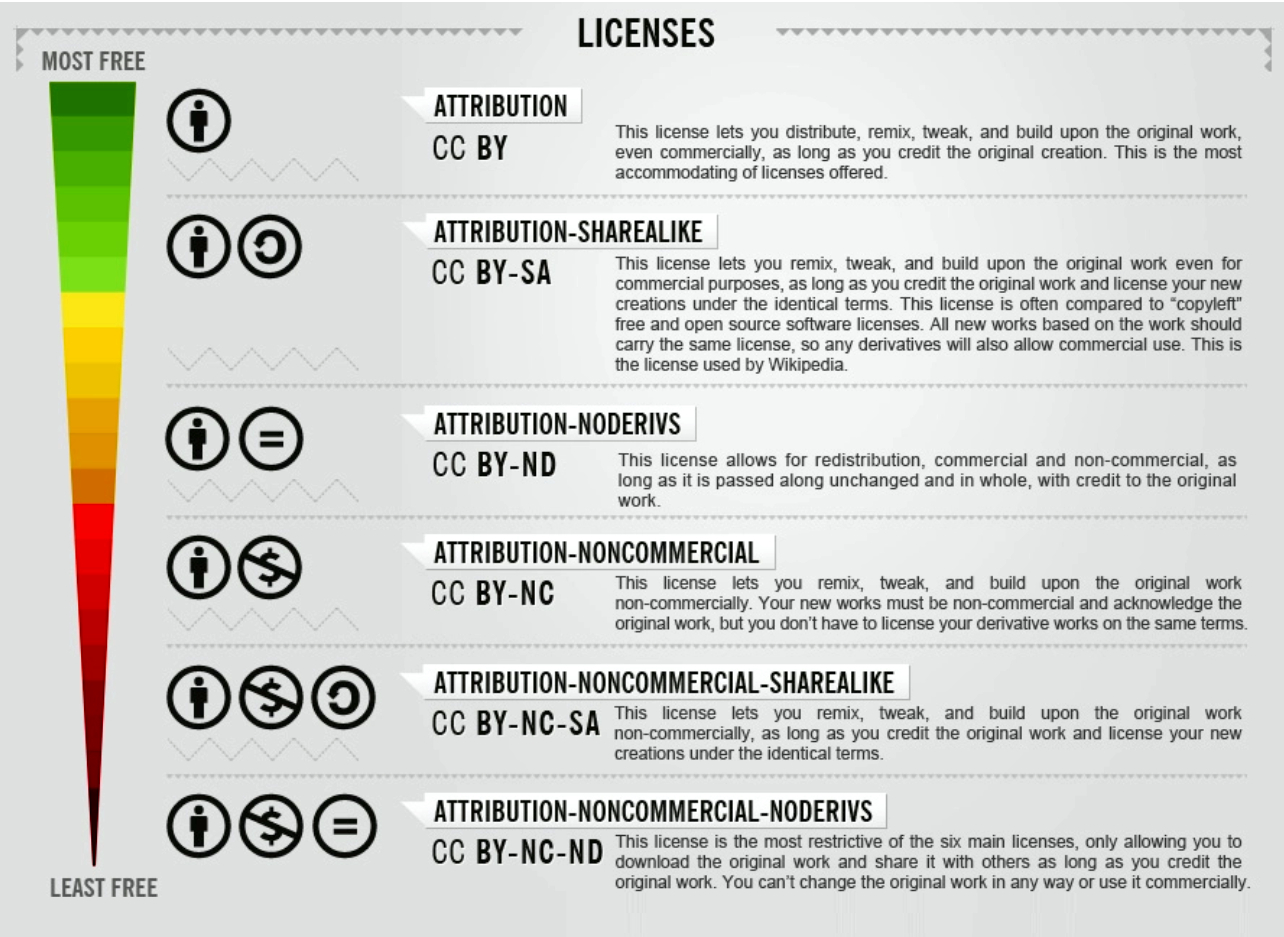 (Graphics source: https://foter.com/blog/how-to-attribute-creative-commons-photos/ / (CC-BY-SA))